Upcoming Events >>
---

HFB Annual Auction >>
Please join us on Saturday November 19th, 6-9pm in Bloedel Hall at St. Mark's Cathedral on Capitol Hill for the HFB Annual Auction.
Always a wonderful evening and an opportunity to support a great cause, connect with the HFB community, and walk away with some amazing deals!
Buy in advance and SAVE! Click here to purchase tickets.
More information: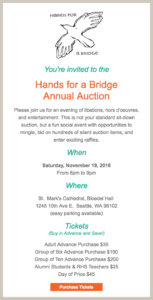 ---
Summer Car Washes >>
Summer 2016
Thank you for supporting the new HFB with their three successful car washes this summer!
August 14 at Rick's Chevron (8506 5th Ave NE)
July 16 at Windemere Auto (5450 Sand Point Way NE)
June 25 at Bernie's Automotive (4420 Leary Way NW)

Every Summer you can find the new HFB students washing cars to raise money for their class. This is a great opportunity to get some enjoyment out of your errands by chatting with the new HFB class and putting your dollars to good use. Please stay tuned for updates on dates and locations. All car washes run from 9:30am to 3pm.
---
Annual Summer Reunion BBQ >>
July 20, 2016
All Past & Present HFB Students

Come together for a festive evening of good food and conversation with great people! Reunite with old friends, meet the incoming 2016/2017 students, mingle with other alumni and catch up with the teachers. An impromptu song or two? It has been known to happen! Parents are always welcome.
When: Wednesday, July 20 from 6-8pm
Where: Roosevelt (Outside the Commons)
Please bring a side dish or dessert to share. Paper products, hot dogs, veggie burgers and beverages will be provided.
Questions? Contact Susan Pollard at mspollard@comcast.net (206.799.0254) or Laurie Mann at lauriebest21@gmail.com (206.399.1168)
---
The End and the Beginning >>
June 6, 2016 at Roosevelt High School
Join us as we say farewell to the class of 2016 and welcome in the new class of 2017! The HFB Year End Celebration includes student performances, song, dance, tasty desserts, and the opportunity to engage with HFB past, present, and future. We hope you can join us! June 6, 2016 at 7:30pm in the RHS library.
---
September 22, 2015 at 7:00 – 9:00 p.m.
Roosevelt High School
1410 NE 66th St, Seattle, WA 98115-6744
A national conversation about the Washington Redskins has even President Obama weighing in, urging the owner to change the team's name. A new play by Lummi Nation member Darrell Hillaire asks, 'what if an Indian owned the Washington Redskins?' in a special performance at RHS.
---
Save
Save
Save
Save