HFB will periodically spotlight one of our alumni. If you are interested in being highlighted please contact Miriam Doyle at info@handsforabridge.org.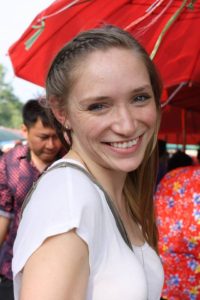 Name: Amy Stromme
Year(s) in Hands for a Bridge: 2009-2010
School Affiliation: University of Puget Sound
Post-secondary school education and/or work, and future plans:       
            After graduating from Roosevelt High School in 2010, I enrolled at University of Puget Sound. There, I majored in International Political Economy with an emphasis in Global Development. In my senior year my favorite professor, Nick Kontogeorgopolus, recruited me to work for a non profit, called Teach Thailand Corps. TTC places English teachers in communities that wouldn't typically be able to afford or attract teachers. So the day after I graduated in 2014, I boarded a plane and headed for Bamnet-Narong Chaiyaphum, Thailand where I would write my own English curriculum, teach 5 classes a day, 5 days a week in two schools in different villages, and developed a lasting love for service. When I returned from Thailand I continued in this trajectory, volunteering overnight with my church's women's shelter, and eventually taking a position as an AmeriCorps member with United Way of King County. In that role my partner, Jess Walton, and I were tasked with increasing food security for low income students at Wing Luke Elementary School. By implementing the nationally recognized Breakfast after the Bell program, we were able to increase breakfast participation by 300% at the elementary school, a difference of 100 more students eating breakfast each morning. Looking forward I hope to eventually get my masters in social work and am currently looking for work in nonprofits in the city that work to combat homelessness.
Reflection:
Hands for a Bridge was a critical experience in my high school years! It planted in me an early commitment to social justice, and challenged me to recognize my responsibility not only as an American, but as a global citizen. I think HFB was the first place where I was asked to take a real inventory of my identity and think about how that relates to others inside and outside my immediate communities. I also loved the emphasis HFB put on art and dialogue. I remember HFB always being a safe place to ask questions, explore ideas, and speak my mind. In college, when I was selecting a major, a friend told me about the International Political Economy department. IPE immediately appealed to my interests but the deciding factor was when my mother asked me, "Doesn't that major sound a lot like your old HFB program?" If it weren't for HFB I think I would have pursued my original plan, an Art History and Business double major, and I would be looking ahead to a future in curatorial work in an institution. Instead, I committed to IPE, and I want to be a change agent in Seattle. This is single example of it's impact, but I earnestly think I might be a different woman if it weren't for HFB.